A common question is "what size & type tires will work best for me?". Well, lets start out with recommended stock sizes. When it comes to the 2wd vans, the stock tire size was 185-75R 14 for the 1984 & 1985 models. IMO I think 185's are too small and suspect Toyota came to the same conclusion because in 86 they changed the stock tire size to 195-75R 14. For all 4wd vans the stock size is 205-75R 14. The 205s and the 195s are close enough to be interchanged from 2wd to 4wd and visa versa (205s are about 5/8" taller). My favorite size for 2wd vans is the fairly new 195 R14C size. The C stands for commercial and these are load range "D" They are also bigger than all of the tire sizes above (and the absolute biggest you can run on a heavily loaded 2wd without scraping the body).
Depending on how you load the van passenger rated tires could be okay. Just remember that vans are a bit heavier due to the extra body metal so load range is an important consideration..........especially if you're running it with a heavy load. On my 89 2wd cargo van I have ran
Nankang N810
195 R14C tires (and was generally happy with them). They are listed as a summer tire though and I found out why when I got caught in a snow storm (they really suck in the snow and ice). The 2nd set of 195 R14C tires I ran were
Hankook Radial RA08
. I was caught in another snow storm shortly after I installed these and found they do MUCH better on slick surfaces (as they are constructed of a softer compound and have a slightly more aggressive tread)..........but softer compound usually means faster tread wear. I've now put about 10,000 miles on the Hankooks and so far they are doing well.
Here's a link to an Internet tire site I found:
http://ssl.delti.com/cgi-bin/rshop.p...hen=View+Tires
That site is great for finding tires based on size and load rating. Their search feature lets you enter the criteria you want and it pulls up tires from a huge list. The ones on this page are all 195 R14C load range D (My favorite size and the highest load rating you'll find in 14"). I was going to drive down to pick my tires up from these guys as they are located just across the river. They wouldn't allow a local pick-up though and wanted $80 just to ship them a few miles. That annoyed me so I went to Les Schwab and gave them the information on the Hankooks I wanted. I paid a bit more for them at Les Schwab (even while compensating for the shipping), but I got their road hazard warranty deal and free rotations so I'm happy.
Important note: When you're shopping stay away from anything that starts with "ST". That stands for "Special Trailer" and they don't have the safety or quality you want for a passenger vehicle. Any tire shop that knows what they are doing won't install them anyhow (liability issues).
To help you figure out what other tires might fit, here's a link to a tire size calculator:
http://www.discounttire.com/dtcs/infoTireMath.dos
. If your van is a 4wd, start with the 205 75R 14 size and compare to that. This calculator won't recognize 195 R14C but I can tell you the overall diameter of these is 26.3" and they are 7.6" wide. The LT27 X 8.5 14" size is ideal for the 4wd vans but this size tire is almost impossible to find anymore. These are a bit oversize and according to some van owners may require minor suspension mods and/or trimming of your front fenders. Personally I have run this size on one of my 4wd vans and it did not require any suspension mods or trimming. I ran the Dean Wild Cat (a discontinued Les Schwab brand) and was very happy with them. An internet search revealed this size is still available.
General Grabbers
,
Maxxis Bighorns
, and some others may still exist. To my knowledge, they are only made in load range "C". C is a notch up from regular passenger tires and are a pretty good match for the van. I've heard these General Grabbers have more meat and more tread on the outside edges. So if you get these you should expect to do some minor cutting and/or bending on the forward lower edge of your front wheel wells. If you are willing to get serious about cutting your body, smashing/hacking your fender wells, then you can go even bigger. I know of at least one other person that has done this and ran
28x8.50R-14LT Super Swamper TSL
tires on a 4wd van. There's also the option of going to 15" rims, and that opens up a whole other world of size options, but for this article I'm limiting the discussion to stock size rims.
It's really a personal decision as to what type and size tire will work best. I like bigger tires (that don't require trimming) because they ride nicer and I can cruise at a lower RPM. Due to the heavy load I carry with my 89 2wd cargo van, I always go with the highest rated tires I can find. I don't mind the look, noise, or feel of aggressive treads, but they typically don't wear as well. Highway or mild all-season treads work best for me. Highway tread can also increase your economy by as much as a couple more miles per gallon on the freeway.
When shopping for tires, date of manufacture (age) is also worth consideration. As tires age they become weaker inside (adhesives break down). Even the ones stored indoors in heated shops degrade over time. If you're buying new, and you have the luxury of inspecting 1st, check the date code and avoid anything older than a few years (tires are considered to have a 5-7 year shelf life). This doesn't mean they're unsafe, but it does make them a bit more questionable. Date codes have been required on all tires since 2000. Here's a couple examples of tire serial numbers: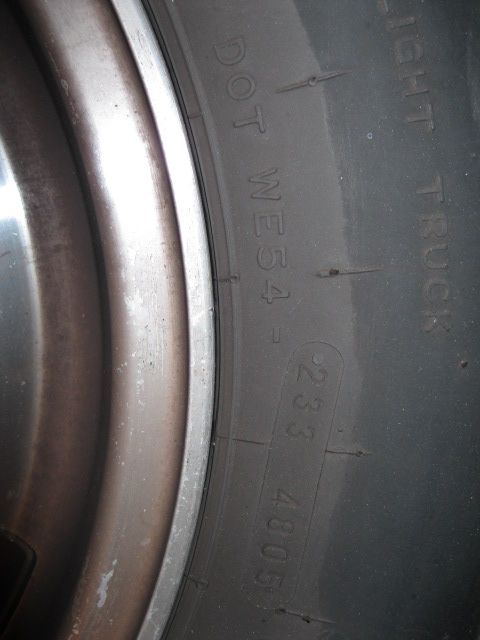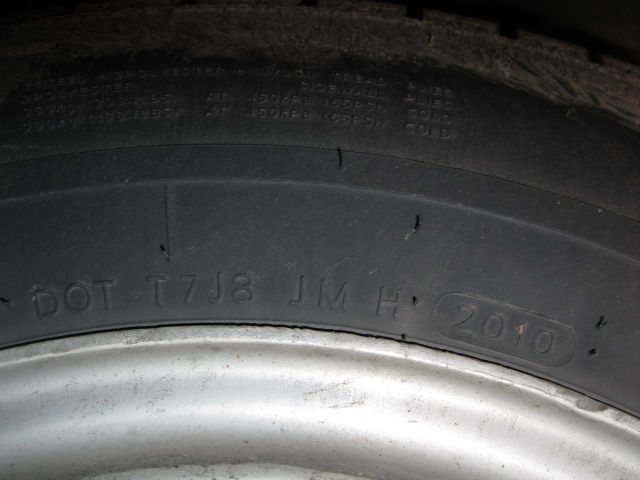 The last 4 digits are date code. The serial number in the 1st picture is
DOT WE54 233 4805
. This tire was manufactured the 48th week of the year 05 (end of November 2005). The serial number in the 2nd picture is
DOT TJ78 JMH 2010
. This tire was manufactured the 20th week of the year 10 (mid May 2010). So if you get a chance to pick them out yourself, look for the freshest set you can find. That last picture is of one of my new Hankooks...........I got lucky with a pretty fresh set.
Here's a picture of a 4wd van with the General Grabbers 27 X 8.5R 14LT tires on it. In most cases these may require minor lifting/cutting to prevent rubbing.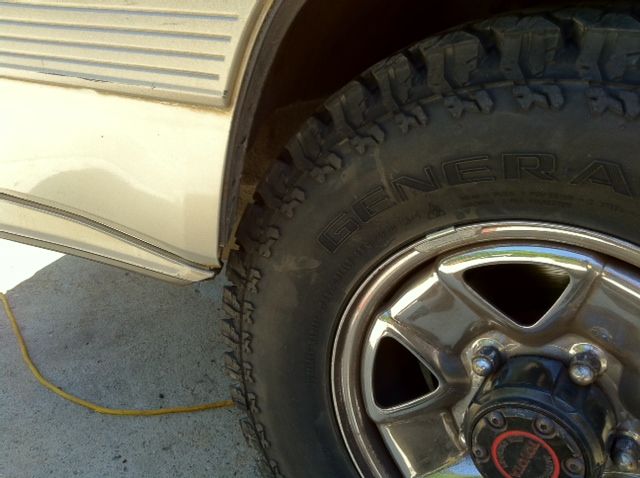 Here's a picture of a 4wd van with the Maxxis Bighorns 27 X 8.5R 14LT tires on it. Although designated as the same size, the Bighorns are noticeably smaller than the Grabbers and are not likely to require any lifting or trimming to prevent rubbing.
And here's a picture of my 2wd Cargo van with the Nankang 195 R14C tires (1st picture) and the Hankook 195 R14C tires (2nd picture). Note: I did remove the rubber strips on the bottom edge of my front doors as these would rub if I hit a bump while turning a corner.